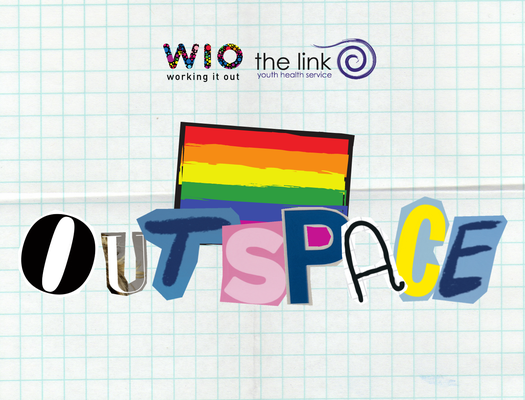 OUTspace
What is OUTspace?
OUTspace is a peer support group for Lesbian, Gay, Bisexual, Transgender, Intersex and Queer+ (LGBTIQ+) young people, and for young people who are not sure about their gender and/or sexuality. It's an opportunity to meet, hangout and learn from your community. OUTspace is a confidential group, which means we can't tell anyone that you've come to OUTspace without your permission. This also means that we don't 'out' each other in public.
What happens at OUTspace?
+ Introduce ourselves and our pronouns
+ Make a group agreement so we can feel safer to participate
+ Hear about LGBTIQ+ news, events and culture
+ Share experiences and ask questions of each other
+ Group activities and games including theatre sports, arts and crafts
+ Special events and movie screenings
What facilitates OUTspace?
Working It Out, and support from The Link Youth Health Service
What is peer support?
Peer support is being able to share experiences, skills and knowledge with people who have similar experiences as you. It can be an opportunity to meet new people and make friends.
How can I sign-up?
We ask that anyone wanting to attend or receive regular email reminders about OUTspace complete our electronic Sign-Up Form:
~~~~~~~~
When: Generally every 2nd Monday of the month 4-5.30pm (sign up to get the reminder and changes)
Hobart: YouthARC, 1 Market Place, Hobart
(Working It Out also runs other Outspace's around Tasmania)

~~~~~~~~
Please email Working It Out for further information info@workingitout.org.au
You are also welcome to email the facilitators
(Hobart) hello@thelink.org.au or info@workingitout.org.au